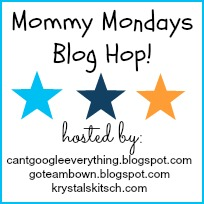 I never really had the opportunity to have a nursery for Phoebe, so I have been so excited about decorating a nursery for Haddie Grace. I found bedding that I loved on sale at
Land of Nod,
which by the way has a ton of super cute stuff if you're interested...
I love the purple and yellow color combination and all the different patterns in the quilt.
Chris and his dad painted her room the weekend we first moved in, and then over the next several weeks I worked on simple decor. The chair rail was already in place, so we went with a dark purple and lavender on that wall and painted the rest of the room grey.
And then some friends of ours gave us this blanket for Haddie Grace a couple weeks ago. It matches her room perfectly! Thanks Courtney!!
What are some of your favorite nursery decor ideas? Will you use the same bedding and decor for subsequent children? For some reason I really wanted new bedding- totally not necessary, but it was a fun little splurge.
Linking up with Mom's Monday Mingle and Monday Mingling