1. The tornado that touched down in Adairsville, GA on Wednesday. Although this is about 40 miles north of us, it was still a little scary. I was driving home from an OB appointment listening to the weather when within a span of 5 minutes: my phone started alerting me that I was in an area under a tornado warning and to "take shelter", my husband is texting me telling me to get home as soon as I can because the tornado sirens are going off in Kennesaw, and I then hear the tornado sirens in Marietta. I just wanted to be home and not on the road. It was the first time I've ever gone down to the basement during a tornado warning. We only stayed down there for about 15 or 20 minutes before the "dangerous" part of the storm moved out of our area and they changed it to a severe thunderstorm warning, but it still wasn't very much fun.
2. I made vegetable lasagna on Sunday night and I thought it was pretty good. We've been eating off of it all week. Do you like leftovers? I love leftovers... It means I don't have to cook again. You be the judge of whether this was healthy or not. I'm sure all the cheese adds quite a bit of fat, but its more veggies than we would be getting otherwise. Paired with a salad it is a pretty veggie-heavy meal, and let's be honest most of us don't eat enough vegetables. This picture really doesn't do it justice. I adapted the recipe from the
Pioneer Woman
. Why do her pictures of food always look so much better than mine? Anyone have any tips for taking pictures of food? I've seen some great ones on some of your blogs and of course pinterest...
3. We switched Knox's dog food back to PurinaOne this week and I am so thankful. You see we had started giving him Iams and I kid you not he had the WORST gas on that stuff. This might be more than you wanted to know, but honestly one of us was about to get kicked out of the house because there wasn't enough fresh air for both of us- and it wasn't going to be me... I love my dog, but I had about had it. What kind of dog food do you feed your dog? I know PurinaOne isn't the best dog food out there and a lot of people do feed their dog premium dog food. But quite frankly I can't afford all-organic food for myself, so why would I feed it to my dog? My dog is not going to eat better than I do. I love him, but he is a dog...
4. Speaking of OB appointments, I really don't like them. Once I start to feel the baby move I find them to be a waste of time and more hassle than they are worth dragging a toddler with you. Really, I pay $4 for parking (well I don't because I refuse to pay for parking so I park in the hospital parking deck that my badge gets me in and walk 10 minutes up the hill to the doctor's complex) and then wait at least an hour sometimes an hour and a half to see the doctor for 5 minutes. It is AT LEAST a 2 hour ordeal. All she really does is listen to the heartbeat, which quite frankly this baby moves enough that I'm pretty sure it still has a heartbeat. Not that I'm ungrateful for the pregnancy or my doctor (who I really do like) I just dread going to appointments.
5. Yesterday we met some friends at
Catch Air
for a play date. Catch Air is an indoor kid's paradise. Really. The floor is completely padded, there are blow-up things to ride, obstacle courses, multiple moon bounces, ball pits, slides, a disco party floor, and more. Its a blast.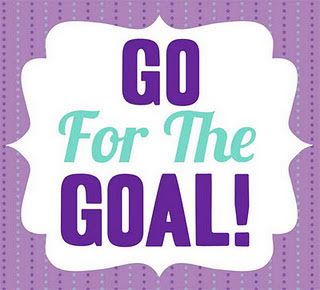 To recap my January Goals-
January Goals
1. Take a prenatal vitamin 5 times/week
Done
2. Clean out 2012 files and move into storage. Shred 2009 files.
Done
3. Get all Christmas decorations cleaned up and put away by this Saturday
Did it!
4. DO NOT LEAVE work early today! It is a holiday and I am getting holiday pay. I need to stick it out for the whole shift no matter how tempting it is to go home early!
It was actually really busy at work so I didn't have the opportunity.
So we'll count this one as a yes!
5. Enjoy more "play-time" with my sweet baby girl and encourage her to play with her baby doll in preparation for the new baby
Yes!
6. Do one DIY project this month
Nope, didn't do it. I posted about the DIY Mason Jar soap dispensers, but that was actually a December project...
7. Stick to our grocery budget. (We'll try this one again)
It was perfect! Literally less than $1 leftover. I didn't go over though! And I bought a lot of "bulk" stock items this month that will last several months
8. Complete proof for 2011 family photo book.
Nope. I'm working on it, but probably not half way done yet. I actually decided to do a combined 2011/2012 book and then I'm going to do one "pre-kids" book of our adventures between marriage and children. I figure it will be fun for our family to look back on someday.
February Goals
1. Complete 2011/2012 family photo book AND pre-kids photo book.
(This is a lofty goal...)
2. I want to try for another DIY project.
I'm thinking liquid hand soap to fill up my mason jar soap dispensers
http://www.thefarmersnest.com/2011/11/liquid-hand-soap-diy.html
3. Get a pregnancy massage
Chris gave me a gift certificate groupon/living social deal for a massage for Christmas. I think it is getting time to redeem that :)
4. Exercise- walk, walk, walk!
I have been pretty good about exercising most of this pregnancy, until this past month! I hardly did anything in January. I could make excuse after excuse, but there's really no good one. I'm certainly past the point of hard-sweat exercising, but I really do need to get outside and walk or get on the treadmill at the gym and walk at least three times/week
5. Slow down and enjoy more "down-time"!
It has been a really busy month. We've tried to pack a lot in- too much really. I'm tired. I need a break. I can't keep up this pace much longer.
What are your goals this month?
Oh and today is my mother-in-law's birthday. Happy Birthday Margaret!