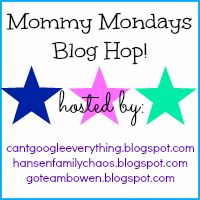 I am so late at getting this posted! Haddie Grace turned one month on April 18th. Embarrassing confession- I didn't realize it was 4/18 and therefore Haddie Grace's one month birthday till 9:30 that night when we were out bowling with some Winthrop students. One of the students asked me how old she was and I said "about a month... actually what's today? Oh wow, she's one month today!" She was sleeping in her carrier so I snapped this quick picture to commemorate her one month birthday:
Weight: 9 lbs 12.5 oz
Length: 23 inches
(We went back for a couple weight checks after that and yesterday she was 10lbs 12.5oz at six weeks)
obviously taken a few days late...
She's been a great sleeper. Starting around 3 weeks she was going for one 5-6hr stretch at night and one 4hr stretch. That makes one happy mamma :)
She really has no schedule during the day. She eats whenever and sleeps whenever. I was really concerned about getting Phoebe on a schedule when she was a baby and with Haddie Grace I really don't care. She will eat and sleep whenever she eats and sleeps. I would really like the girls to nap at the same time though in the afternoon. I have only been successful with that a few times.
Ok, so she doesn't normally sleep like this, but how funny is that?
As far as eating goes I am still trying to nurse her when I can and then she almost always gets a bottle afterwards. Sometimes she takes 2oz and sometimes she takes 4 ounces. Sometimes she eats after an hour and a half/two hours and sometimes she goes for a 3 or 4 hour stretch during the day. I never know. I'm pumping 4 or 5 times/day so she gets expressed breast milk in the bottle most of the time. And if I don't have any then she gets formula. I saw the lactation consultant again last Friday and saw an OT/ST with her as well. She gave me some more specific exercises to help strengthen Haddie Grace's tongue. She said that her tongue was weak and fatigued easily which was hindering her from effectively removing milk from me. So now I am diligently working on those exercises. I also just heard about Mrs. Patel's from bouffee e bambini and am excited to try out their products to see if they can help my milk supply. You should check out her blog for a Mrs. Patel's giveaway!!!
I've started her in the cloth diapers as well. I don't do them exclusively, but I use them when I can. I have eight size small bumGenius 3.0s. Those are what I am using on her right now. Just today I started folding up some of Phoebe's 4.0 one-size diapers to fit Haddie Grace. Now hopefully with those I'll be able to use the cloth more with Haddie Grace and wash the diapers a little bit more often. We'll see how it works. Since I'm using them with Phoebe anyways, it has been no big deal to toss a few on Haddie Grace every now and then. (And then Phoebe takes them off when I'm not looking... Yes, she did this all by herself)
I admit that I have been awful about taking pictures of Haddie Grace. I really don't have very many at all! I will try to do better for next month. We're still not sure who she looks like. She doesn't really look like Phoebe. She's also starting to lose some hair from the front. It looks like she has a receding hairline. If she were an old man she would probably wear a taupee.