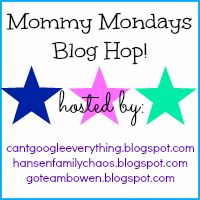 We are a fan of swaddle wraps in this house. We swaddled Phoebe for an embaressingly long time. I mean, she was 6 or 7 seven months before we stopped swaddling her. It was one of my "must-have" newborn items. She just slept so well in it. So of course we were planning on swadding Haddie Grace too. A friend of mine gave us an aden + anais easy swaddle at our baby shower, and I love it! Everyone loves the aden + anais swaddle blankets, but I had never seen their easy swaddle. It is the same soft muslin cotton as the swaddle blankets, but with an easy snap close that creates the perfect swaddle. I love it because I feel like it is more breathable and cooler than the cotton swaddles I had been using.
What do you think? Did you or do you swaddle your babies?
Be sure to link up your mommy posts below!!