Whoops! I had this post all ready to post yesterday but between the floors on the first floor of the house not being ready and trying to move in as much of our stuff as we could despite of it, I didn't get this posted! And now the giveaway is over! Oh well, it is one of those days! We are now half moved into the house... Half of our stuff is in the garage because they need to finish the floors on the first floor. It is not "livable" yet so we are surviving on the hospitality of Westminster Presbyterian Church allowing us to stay in one of their missionary houses, i-pad movies, the Internet at Chick-Fil-A, and the generosity of new friends bringing us food. Oh the joys of moving... I'll probably won't be posting anymore this week, but hopefully I'll be back next week and be living in our house!
Hi ladies, this mommy is knee deep in boxes. The movers are supposed to unload the truck today and we don't have Internet here yet. Yikes! Link up your Mommy Monday posts below and I'll look forward to checking them out when the Internet is up and running!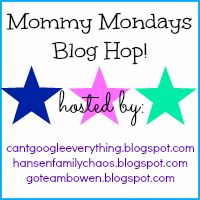 Oh, and for all you cloth diapering mamas- anyone, anyone?? I love my cloth diapers but I HATE how the liners come out of the dryer with SO. MUCH. STATIC. Have you heard of Woolzies? Fantastic and safe for cloth diapers because there are no chemical fabric softeners or enzymes. (Great for you regular laundry too.) Check out my review of them here and enter for a chance to win a set for yourself!