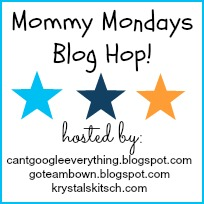 Or really I should say Mommy Monday Fail.
A day in my life looks like an incomplete "to-do" list. Take this blog post for example... Rachel, Krystal and I were excited to host the first ever themed Mommy Monday post! And I had intentions of gathering my photos to show you "a day in the life" of our house. But it is now Monday afternoon and that did not happen.
So thanks for linking up. I will enjoy reading your posts, just know that most of my days end with me not completing something that I was hoping to accomplish- like this blog post.
Come back next week and link up any mommy post!
I promise that I will drop the ball on something next Monday, but it won't be my blog post.